Dr. Marie Cecile Gruselle
Wissenschaftliche Mitarbeiterin im Rahmen des von der DFG finanzierten Sonderforschungsbereiches 1076 AquaDiva
Marie Cecile Gruselle, Dr.
wiss. Mitarbeiterin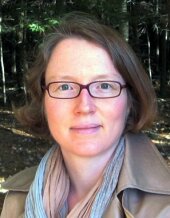 Research Interests/Forschungsinteressen

Plant - soil interactions, ecosystem functioning under disturbance and management scenarios, ecosystem research and stable isotopes, nutrient budgets and the paired-watershed approach, ecosystem monitoring, aboveground and belowground functioning of mixed-species and structurally complex forests, forest conversion/species encroachment and soil organic matter quantity and quality, forest management and sustainable soil productivity, carbon sequestration and nutrient cycling, carbon - nitrogen cycles interactions, litter and dead woody debris decomposition along ecological gradients, rhizodeposition and root traits, assessment of particulate matter in terrestrial ecosystems, biogeochemical applications of infrared spectroscopy techniques.

Ongoing Project/Projekten

Friedrich-Schiller University, Jena, Germany

Composition of tree-derived organic matter and its effect on subsurface microbial processes: feedback to plants and nutrient cycling (Collaborative Research Centre 1076 AquaDiva: Understanding the links between surface and subsurface biogeosphere, Sub-project B01, 2017-2021).

University of Maine, Orono, USA

Assessing and monitoring the influence of forest management practices on soil productivity, carbon storage, and conservation in the Acadian Forest Region (Sustainable Forestry Initiative Conservation Grant, 2018-2020).
Nitrogen controls on detrital organic matter dynamics in the Northern Forest: evidence from a 26-year nitrogen addition experiment at the Bear Brook Watershed in Maine (Northeastern State Research Cooperative Grant, 2016-2019).