Prof. Dr. Christiane Schmullius
Universitätsprofessorin
Christiane Schmullius, Prof. Dr.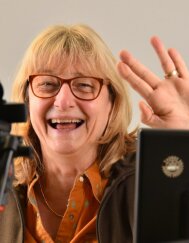 JenTower, Raum Süd, 26. Etage
Leutragraben 1
07743 Jena
Major Research Interests
Application of operational and experimental Earth observation sensors in the optical, thermal and microwave domains (with a focus on radar) for geoscientific applications. Special expertise is on global satellite monitoring concepts for land surface analyses to support climate change topics. As former expert for e-infrastructures to the German Future Earth Committee, interests also concern big data handling from the Sentinel-satellites and in situ networks.
Curriculum Vitae

Current Projects

Concluded Projects

Publications

Supervised Habilitations and Dissertations

Panels & Awards